Did you know the Marblehead Museum is available to rent for your special event?
We offer two distinctive options:


The 1768 Jeremiah Lee Mansion Gardens
The 1768 Jeremiah Lee Mansion Gardens are a beautiful setting for any occasion from weddings to company outings. A guided tour of the Mansion's first two floors can be arranged for your group in conjunction with your event for an additional fee of $20 per hour/per tour guide. The garden is open seven days a week and you may visit it unescorted anytime. Click here for a JLM Rental Guidelines & Contract
$500.00 per hour from set-up to clean-up
300 person maximum 
The Museum Galleries
The Museum Galleries at 170 Washington Street are a charming setting for meetings, receptions, or lectures. Your guests will mingle amidst maritime images of the JOJ Frost Folk Art Gallery on the upstairs level and other delightful changing exhibitions in the first floor gallery. Click here for a 170 Rental Guidelines and Contract
$150.00 per hour from set-up to clean-up
Includes tables & chairs
50 person maximum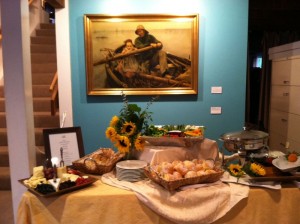 Marblehead Museum members receive a 10% discount on the facilities rental fee.
If you have any questions or would like to make a site visit,
please call (781) 631-1768.