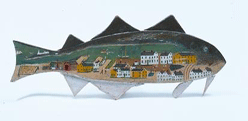 BACK BY POPULAR DEMAND! Wed, Sept. 23 at 7pm: Mark your calendars!
Enjoy a glass of wine while painting your very own wooden fish! Local artist Katy Bratun will guide you through a J.O.J Frost-style scene or create your own design.
No experience necessary, just a relaxing evening of fun and friends!
$35/members, $45/non-members
Admission includes wine and all materials.
Please register online or call (781) 631-1768. Space is limited!