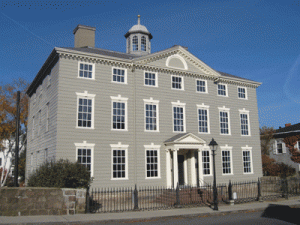 The Lee Mansion is one of the most significant Colonial structures remaining in the United States. It attracts visitors from all over the world, who marvel at its grand design and beautiful original condition.The Mansion is important in many ways, but the most amazing thing about the house is that it still exists. The Lee Mansion has many things to teach us about architecture, decorative arts and life in the American colonies. 2009 marked a century of stewardship of the Lee Mansion, with many important preservation projects complete. Looking forward to the next century, the Lee Mansion continues to need your help and support.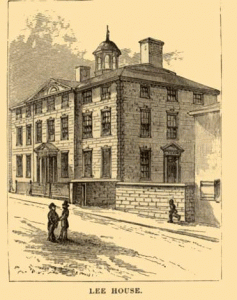 Wealthy ship owner and merchant Jeremiah Lee built his elegant home with great attention to quality of construction and decorative detail. He moved into the house with his wife and family in 1768. They lived there together until his death in 1775, and were the only family ever to enjoy the Mansion in grand style.After Mrs. Lee's death in 1791, the Lee Mansion became the Marblehead Bank, the first bank in town.  The Bank operated from 1804 until 1904. During the Bank's tenure the house was virtually unchanged. Its use as a commercial property rather than a family home preserved the Lee Mansion in its original condition.The Lee Mansion was the grandest house in Marblehead when it was built, and it remains so today.  The house has always been a source of pride to the people of Marblehead. Even in the days when it was a Bank, it was listed in guide books as a tourist attraction.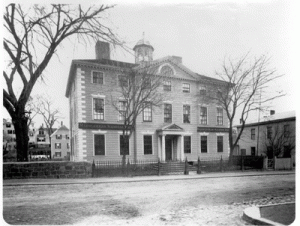 In 1909 the Lee Mansion was put up for auction. Responding to rumors that the house was slated to be torn down, with only its architectural elements salvaged, the Marblehead Historical Society came to the rescue.  Money was raised, with the aid of townspeople. Even school children saved pennies, and everyone worked together to save the Lee Mansion, purchasing it in 1909 for $5000.
For over 100 years the Marblehead Historical Society, then the Marblehead Museum and Historical Society and now the Marblehead Museum, has had many supporters in its efforts to preserve the Lee Mansion. Volunteers, members, Board members, donors, visitors, preservationists and staff have all contributed to this effort.
The Marblehead Museum is supported solely by membership dues and contributions.
Please join us in continuing our preservation efforts.