The J.O.J. Frost Folk Art Gallery is now updated and called the J.O.J. Frost Gallery and Carolyn Lynch Education Center. This project was completed in the spring of 2017. To view our new gallery guide, click here.

Frost's post-Civil War boyhood memories of Marblehead and experiences aboard fishing schooners on the Grand Banks are the focus of his work. J.O.J. Frost began painting at age 70, untrained but driven by a sense of history that he expressed visually. He considered himself a historian rather than an artist. Frost used materials he had on hand; house paint, wall board and odds and ends of wood scraps to create his works. He had no understanding of perspective, no knowledge of anatomy and no particular skill at drawing. What might be considered artistic failings in fact make his paintings unique. His art is more than charming and quaint as it details the daily life of Marbleheaders at home and at sea. Frost's work is recognized as a significant part of American folk art, and is represented in major folk art collections. 
Of note: J.O.J. Frost's work has been compared to that of the Cornish Folk Art painter, Alfred Wallis(1855-1942). For more information on Wallis see The Magazine Antiques, July/August 2014. 
Join the J.O.J. Frost Treasure Hunt!

Click Here

J.O.J. Frost Subject Matter:
"Frost was a talented folk artist. Much of his subject matter was scenes from Marblehead history, starting with the founding of the town 
Frost also created scenes of fishing on the Grand Banks. He painted a true account of the famous and terrible Great Gale of 1846. He painted sea birds and fish and whales, including whales at play. He remembered everything from his voyages as a young man, and the endless stories he had heard from the fisherman at the town landing.
He also painted many pictures of the town of Marblehead as he remembered it from his boyhood. When Frost started painting in 1922, the town of his boyhood was not just disappearing, it was gone. The small fishing town that Frost's paintings record is the Marblehead of post Civil War 1860s and 70s; the harbor filled with fishing schooners, chickens, cows and pigs in most of the yards, and every house with a kitchen garden of vegetables.
J.O.J. Frost's paintings were not appreciated in his own lifetime. He would be proud and happy to know how much his work is admired today." - Pam Peterson - Executive Director

Hours:
June-October
Tuesday through Saturday, 10am-4pm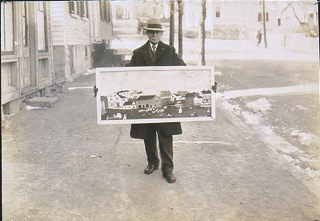 "A Book 50 Years in the Making!" Salem Evening News
To learn more about the favorite cookie of Marblehead sailors, The Joe Frogger, featured in the book click here.
"Molly Waldo! A Young Man's First Voyage to the Grand Banks of Newfoundland, Adapted from the Stories of Marblehead Fishermen of the 1800's"
Published in 2013, this book was co-authored and published by a Marblehead mother/daughter team;  Priscilla L. Moulton (long time volunteer of the Marblehead Museum) and Bethe Lee Moulton.  The book features the paintings of J.O.J. Frost in the Marblehead Museum's collections and a foreword by Executive Director, Pam Peterson. A percentage of the proceeds from the sale of each book goes back to the Marblehead Museum.  
Click on the book below to buy now.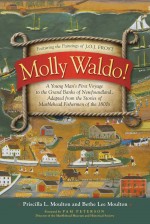 Folk art images and archival voices carry readers on a historical sea voyage with the self-reliant Marblehead schooner fishermen who lived and died in search of cod.  http://www.mollywaldo.com/