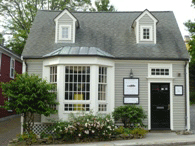 The Museum, Exhibits and J.O.J. Frost Gallery are located at 170 Washington Street across from the Jeremiah Lee Mansion. There is a changing exhibit gallery on the first floor that presents new exhibits 2-3 times a year. The changing exhibits focus on many aspects of Marblehead's history, drawing from the Museum's collections as well as loans from other collections. Our current exhibit is consists of J.O.J Frost paintings on loan from other collections. This exhibit will be up through the summer of 2017.
The permanent collection of  JOJ Frost Folk Art is now part of our newly renovated and interpreted J.O.J. Frost Gallery and Carolyn Lynch Education Center, which opened during the spring of 2017.
Workshops, lectures and exhibit openings are held at 170 Washington St. The museum offices and front desk are located here as well as the gift shop. The Marblehead Museum Archives are stored in special archival space here. Aside from regular business hours, 170 is also open for special seasonal events such as the Marblehead Christmas Walk weekend. Please contact us at 781-631-1768.
Hours:
June through October
Tuesday through Saturday, 10:00 a.m.- 4:00 p.m.
November through May
Tuesday through Friday, 10:00 a.m.- 4:00 p.m.