The G.A.R. Civil War Exhibit was reinterpreted and reinstalled in the Fall of 2013. The essential design and reinstallation concept was to use the exhibit to more dramatically emphasize the importance of the adjacent historic G.A.R. Meeting Room.
The outer room, or Civil War room, presents both Marblehead's role in the Civil War and the broader struggle to maintain the Union. By using local history to illustrate national events the significance of the war in our nation's history is made both personal and universal. The first three regiments in Massachusetts to report for duty in 1861 were from Marblehead.
This is an important opportunity to see the Marblehead Museum's Civil War artifacts. They present a critical period in the history of the United States in which Marblehead distinguished itself though its patriotic sacrifices at home and on the battlefield.
Click here for our 2017 Schedule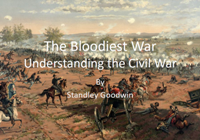 THE BLOODIEST WAR; UNDERSTANDING THE CIVIL WAR                                           Presentation by Standley Goodwin

 Click here for Excerpts from our Video: "Marblehead and the Civil War" 

Narrator: Anthony Silva,  CBS4, Boston              Video production: Joan Goloboy